Arts for Learning San Diego brings Expressive Arts Therapy to schools with their Arts Intervention Program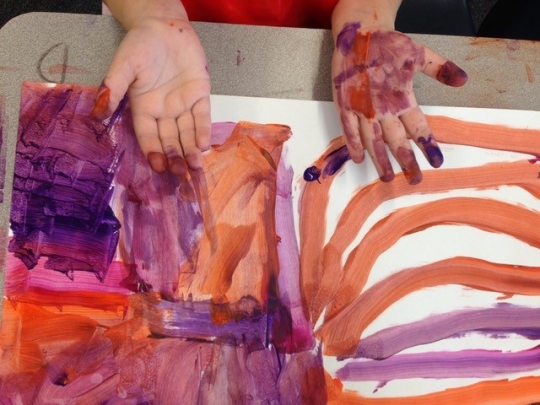 Throughout history, the arts have played a positive role in healing the mind, body and spirit. According to "The effects of an arts intervention program in a community mental health setting: A collaborative approach" by Anne W. Lipe "…arts interventions offer opportunities for emotional expression and social interaction and have been shown to improve motivation, to increase personal empowerment and to relieve negative symptoms associated with mental illness." Not only are the arts a fun and relaxing outlet that can offer a distraction from health issues, they can also be used to support positive mental/emotional and educational growth. This incredible combination is what Arts for Learning San Diego (A4LSD) strives to provide through their Arts Intervention Program. 
The Arts Intervention program (AIP) was started two years ago by A4LSD Programs Director Erika Malone. Erika is an expressive arts therapy Master's Degree graduate and regularly incorporates the techniques that she has learned into the classroom through her work with Arts for Learning San Diego. Principals of the schools she worked with became impressed with how she worked with the students and wanted to learn more about how they could bring more expressive arts into their school. AIP is now in its second year of a 5-year pilot program at two Elementary Schools, Adams Elementary, and Freese Elementary.
Through AIP, Arts for Learning San Diego seeks to help students find solutions to the challenges they face so they can succeed in school and in life. The program is based on the approach set out in the theory of Intermodal Expressive Arts Therapy created and written about by Swiss scientist, artist, and therapist Paolo Knill. Knill's theory introduces expressive arts therapy through the exploration of the basic principles and foundations of using the arts in psychotherapy. AIP offers a trauma-informed, multi-disciplinary, arts-based approach and is taught by a combination of Expressive Arts Therapy Master's Degree graduates and students currently in the graduate school program completing internship hours and receiving supervision. This program has a wide variety of other applications through programs geared towards hospitals, corporations, and social service organizations and A4LSD is interested in expanding their AIP program to such settings in the future.  
AIP teachers and artists work to build upon educational and artistic skills students are already familiar with. The expressive arts are deeply rooted in play and artistic processes whereby students use their imaginations to create solutions to many different types of problems. Using all five forms of art, (theatre, dance, visual art, music, and poetry/literary arts), students discover solutions that result in growth, change, healing and achievement. The program celebrates students' strengths and helps them grow to learn to care for themselves, make better choices and connect to others.
The Arts Intervention Program helps students of all ages build and improve skills in effective communication and respectful self-expression, healthy relationships and collaboration, positive self-image and identity, problem solving and willingness to see task through to the end and more. These skills are vital for 21st century learning, and the positive impacts that result from this program include increased school attendance and engagement in class, boosted self-esteem, and greater interaction with peers.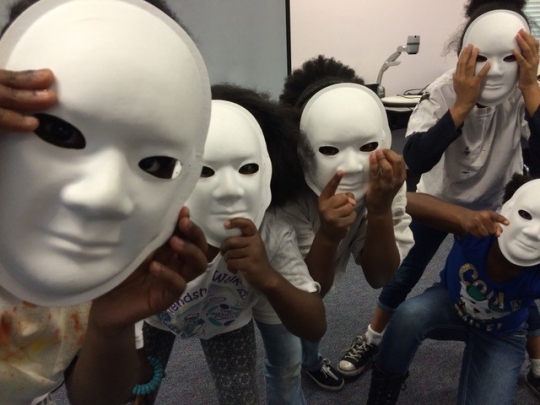 One of Erika's favorite experiences involves 5th grader Jose, who was described as a bully, aggressive and intimidating. Over the course of the program, they showed Jose how to express himself through movement and dancing and used expression through theatre and improv by having him play roles of both hero and villain. By the end of the 20 weeks the class was working on a dance performance that was to be performed for teachers and parents, and his classmates voted Jose to be the hero who had a strong role in protecting people. Everyone could see how proud he was to be chosen for this role. He was able to play this role by focusing on gentle and smooth qualities that he learned from the previous 20 weeks through dancing and improv.
Students, teachers and parents from these schools enjoy this program and all have positive things to say about it like:
Student Quote (3rd grader)
"I've learned that I am very active, and that I'm lovable.  When we write my feelings down it feels good, and helpful to tell others about it.  When I get mad at the girls, I know how to make myself calm down now.
Classroom Teacher Quote 
"Emily really opened up this year!  I now see Emily as a strong communicator & very expressive."
Parent Quote
"I've noticed that our daughter is more talkative with us.  She seems to be more cheerful, more outgoing.  She is learning to express herself through this program."
Art is not only meant for creativity and expression. It helps with life skills, self-esteem and healing. Programs Director Erika states, "Every time I describe this program to a principal they begin to immediately tell me about the students who can benefit from it. They name these students off the top of their head and you can feel sense a relief from them knowing that something like this exists. The potential for impact is much greater because of the format working one on one and in small groups. This is really unique and very much needed so it's very exciting to bring this program to schools."
To learn more about this program please contact: Erika Malone, Programs Director
Phone: 619.282.7599  Ext. 116
Newsfeed
January 20, 2021