Announcing the Buffalo Emerging Leadership Institute!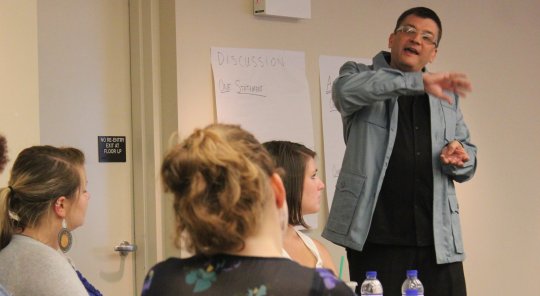 Young Audiences Arts for Learning (YA) and Young Audiences of Western New York (YA-WNY) are excited to announce the launch of the first ever Buffalo Emerging Leaders Institute, to take place July 13-16, 2014. Building on the success of YA's national Emerging Leaders Institute model, the Buffalo Institute will serve approximately 25 emerging leaders in the arts in Western New York.  The Institute will serve artists, non-profit administrators, service providers, community organizers, artists and teachers, who will complete the Institute having improved their skills as leaders in the arts and arts education fields.
The Buffalo Emerging Leaders Institute is made possible by the New York State Council for the Arts with additional support provided by the Emerging Leaders in the Arts Buffalo (ELAB). The Institute will be facilitated by seasoned Executive Coach Judi Spear, with presentations to address functional needs as well as topics relevant to successful leadership and management. The intensive experience will also provide training and best practices in inclusion, personal renewal, grantsmanship, team leadership, human resources, governance, community collaboration and organizing, and volunteerism.  Break-out sessions and small-group workshops will allow for networking, the sharing of perspectives and best practices, and peer-to-peer discourse and reflection.
·    To download the application form, click here.
·    Deadline for application is June 6, 2014
Presenting partners for the Buffalo Emerging Leaders Institute include Arts Services Initiative of WNY, Inc., Buffalo & Erie County Public Library, Buffalo Philharmonic Orchestra, Hallwalls Contemporary Arts Center, Hotel @ The Lafayette, Just Buffalo Literary Center, Starlight Studios, RV Rhodes, LLC., and WNED|WBFO.
Lead Presenter
Executive Coach Judi Spear's impressive career includes over two decades in medium and large corporate environments, where she gathered invaluable experience to pave the way for the creation of her successful management consulting firm, RV Rhodes, Inc. Since 1996, she has worked with more than 30,000 executives, managers and administrators. In 2008, Judi founded Invisionit, LLC to work with young adults 12 – 26 years of age.
Judi's skills as a consultant, coach and facilitator has served both not-for-profit and for-profit organizations. Working with CEOs, administrators, executive directors and their management teams, Judi utilizes her training and certification in many key personality and behavioral inventories. She provides mentoring and equips each business with the essential tools and knowledge to strengthen their leadership, teamwork, and results.
For the Buffalo Institute, Judi will provide both the StrengthsFinder and DiSC Assessments to participants, and review how to integrate these tools into leadership practice.
· StrengthsFinder Profile – from the book, Now, Discover Your Strengths. Developed by the Gallup Organization, Strengthsfinder identifies natural talents. These talents can be built into strengths that a person can use repeatedly with little to no effort and near perfect results.
· DiSC Assessment – shows natural work and communication styles.  Understanding these abilities allows a person to work gracefully with others and choose priority roles.
Additional Presenters
· Sylvia Bennett, Senior Vice President, Development & Corporate Communications, WNED|WBFO on Fundraising and BiNational Opportunities
· David Dik, Executive Director, Young Audiences, Inc.
· Laurie Dean Torrell, Executive Director, Just Buffalo Literary Center on Renewal and Reflection
· Cynnie Gaasch, Executive Director, Young Audiences of Western New York on Grant Writing
· Amy Rasmussen, Executive Director Chicago Arts Partners for Education CAPE on Measuring Impact, Building Partnerships, and Mentor Relationships
· Starlight Studios Staff and Artists on Inclusion
Young Audiences of Western New York works to make the arts a part of young people's lives in order to enhance their development as creative and productive human beings. Founded in 1962, Young Audiences of Western New York provides hundreds of programs and residences to schools in Buffalo and Western New York each year.
Emerging Leaders in the Arts Buffalo is a group of multidisciplinary artists, arts administrators and patrons who work to support professional and artistic growth while serving as creative placemakers for the region through innovative events, educational activities, critiques, workshops and community art projects. 
Funding provided by New York State Council on the Arts with the support of Governor Andrew Cuomo and the New York State Legislature.
Hotel Lafayette:
America's Best Designed City: