Affiliate Spotlight: Young Audiences Northeast Texas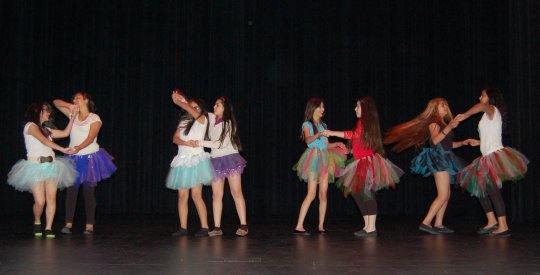 Young Audiences of Northeast Texas (
YANET) 
was established in 1997 and became a Young Audiences Arts for Learning affiliate in 2003. YANET is now one of five Young Audiences Affiliates in the state of Texas and one of 31 affiliates throughout the country. YANET offers the students, teachers and schools of Northeast Texas a large roster of teaching artists who provide performances, workshops, residencies and professional development in all arts disciplines. 
YANET
 has developed a partnership with the Tyler Independent School District to bring the power of the arts directly into the classroom. Together, YANET and the TISD are working to develop Caldwell Elementary Arts Academy- already an arts magnet school- into a model "arts integration school." The core element of this project is professional development for teachers, preparing them to use the arts as a teaching strategy. Master teaching artists come to Caldwell and present day-long professional development sessions followed by 3 days of classroom lessons with the artist, teaching and sharing that role progressively more each day with the teacher. Cohort teachers observe the classroom lessons and reflect with the artist afterwards. 
Throughout the next three to five years, Caldwell Elementary will strive to become a model for other teachers and districts, exemplifying what it means to adopt an arts-integrated curriculum and demonstrating the many benefits this type of learning offers to students. The partnership with the John will offer professional development opportunities for all district teachers to learn about effective arts-integration methods and implementation strategies that they can bring into their own classrooms to use with their students. The hopes for this project are that it will culminate in more teachers from other schools demonstrating a willingness to adapt their curriculum to integrate the arts.
Young Audiences of Northeast Texas pairs their efforts to bring arts into established classroom curricula with providing supplemental arts enrichment experiences to schools and students. Last year, YANET's roster of 29 teaching artists presented almost 200 programs in 54 schools, reaching over 23,000 students. YANET offers programs such as performances and workshops, as well as in class residencies to further enhance learning. These programs range from dancing and drumming with the "Fly Dance Company" and learning the Blues with "The Blue Shoe Project," to experiencing spoken word poetry with "Outspoken Bean," "Discovering and Drawing Nature" with Julio Suarez, and even learning about the history of textiles and how to turn wool into woven works of art with Joyce Terrell.
One of the standout programs at YANET is their middle school dance residency program "Creating Balance through Dance." The program was started in 2006 in order to provide middle school girls with the chance to experience the rich and diverse nature of dance as well to foster the growth of a support network which allows the girls to discuss and work through issues common for girls in middle school. "Creating Balance through Dance" is a year-long residency that focuses on giving the participants the opportunity to explore many different types of dance and choreography as well as to create their own routines in both collaborative and solo environments. YANET will offer the "Creating Balance through Dance" residency for the 7th year in a row in the coming school year (thanks to the support offered by the MetLife "Learning for Life" Grant), and hopes to expand the program to reach more schools in the future.
"The goal of Young Audiences of Northeast Texas is to partner with you to provide every child the education he or she deserves. We believe that all students deserve access to the arts in school as part of a complete education. We bring access to top quality local and national arts-in education resources, as well as funding sources to help support these programs in your schools."

 

-Amy Baskin

 

Executive Director, Young Audiences of Northeast Texas
For more information, check out Young Audiences Northeast Texas' website. 
Newsfeed
September 19, 2018