"Engaged Students Start with Engaged Teachers" YANJ/EP's Professional Development Program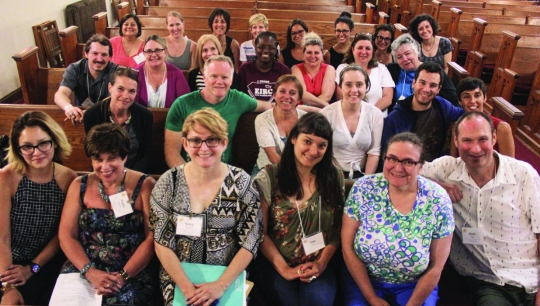 For some teachers, the summer may provide time to relax, take their minds off of the hectic months of school and possibly travel to inspiring locations across the world. However, this is not the case for the teachers involved in the programs of Young Audiences New Jersey & Eastern Pennsylvania (YANJ/EP).
Teachers and teaching artists who are members of YANJ/EP's Creativity Consultant Project (CCP) gathered in July at The Reformed Church of Highland Park, in Highland Park, NJ, for the Creative Curriculum Institute a three-day arts integration professional development program. They reflected on their arts integrated educational experiences over the past year, shared moments they had with students and prepared new arts-integrated lesson plans.
CCP is one of the many programs the YANJ/EP affiliate offers to provide arts education to their local community. The project stemmed from their Artist in Residency program that is sponsored in almost 700 schools annually in the New Jersey and Eastern Pennsylvania region. The project's goal is to extend the breadth of arts integration past short-term residency programs, to something that is ever-present in the curriculum of participating schools.
Ten schools are currently involved in CCP with at least three teachers from each school volunteering to be part of it. Once these "Creativity Teams" are established, staff members at YANJ/EP match a teaching artist with each school's team to act as their "Creativity Consultant." This cohesive group will then work together to prepare lessons that meld the goals and curricular requirements of the classroom teacher with the artistic skill of the resident artist.
The project is scheduled for four years in each participating school. The dynamic of the classroom shifts as the program progresses from the Creativity Consultant leading the arts integrated lessons, to co-teaching with the classroom teacher, to fully passing on the responsibility of teaching arts integrated lessons to the full-time teacher. The goal is to give the classroom teacher the tools to integrate the arts into all of their lesson plans, "we want to provide the teachers with everything they need to be successful," said Liz Winter, Arts Education Projects Director at YANJ/EP.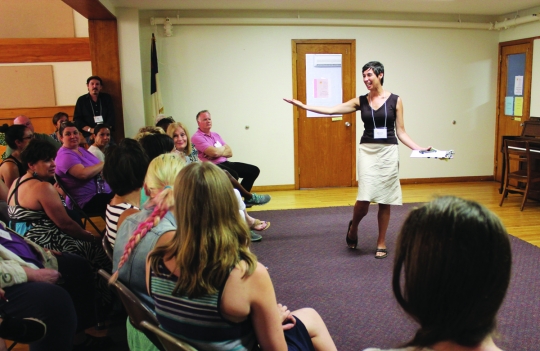 During the culminating workshop, artists lead cohort experiences for the teachers in order to provide them with skills to create a wealth of arts integrated lessons. The first artist to lead a session was Queen Nur, a dramatic storyteller. Teachers took on the role of students as Nur demonstrated how storytelling can engage young learners and expand their understanding of a particular subject.
Teachers were asked to construct and perform their own dramatic story recounting a personal student-teacher learning experience they remembered. Lisa Costantino, a music teacher at Washington Elementary School, noted how this activity revealed some of the nuances of teaching that she often overlooked. "It's easy to overlook small victories in the classroom. It's nice to have the opportunity to individualize students' work and just celebrate what they're doing," she said.
The teachers learned how to use dramatic storytelling to enhance their own lessons. One teacher noted how storytelling can help students develop their listening skills. Another mentioned the vocabulary development that can occur when students create and recite their own work.
Another session was presented by graphic artist Kevin Pyle. He introduced the teachers to character creation, and asked them to create their own character and corresponding story. He explained how characters, such as Batman, have distinct physical characteristics that give way to the stories they embark in. "Batman is not expected to be seen at the corner deli in the middle of the day getting a sandwich," he joked, "he is obviously a creature of the night." Batman's distinct appearance – the dark color pallet, mysterious demeanor and muscular physique - tells its own story; this is why Pyle said he teaches character creation before the story.
During his session, he instructed the teachers to create their own characters based on an element of his/her curriculum. The tiny room was filled with creative fervor as teachers crouched over the miniature student desks sketching characters spilling out of their imagination. One pair of teachers developed characters based on their curriculum of the lifecycle of the butterfly. "Princess Caterpillar" and "Queen Butterfly" were created, characters which they would use to communicate their science lesson in story-form.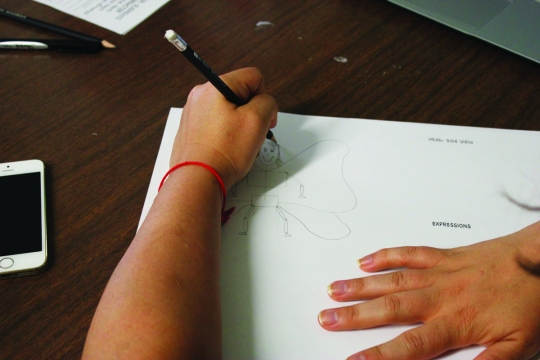 In another cohort, teachers explored how to use movement to teach math. Dancer Laura Marchese directed the teachers in dance routines focusing on the themes of space, time and energy. She asked the teachers to connect dance movements to explain math problems and translate math equations into movement; developing a cyclical lesson plan.
As teachers were jumping, counting, spinning and waving their arms to solve a word problem, Marchese noted, "we're addressing our kinesthetic learners, we're addressing as many intelligences as we can," when delivering such lessons. She said as a teacher you must constantly be asking yourself, "what can I do to make this more vivid, to keep this alive, to keep this as arts integration and active?"
Danielle Petruzziello, a teacher who has worked with Marchese in the past, said that CCP is unique because "[they] take you to places you wouldn't remotely think to go in the classroom. It expands what experiences you can give to the students, but you can integrate parts that you are comfortable with as the teacher. It's not just something the outside artist can bring."
The Creativity Institute is a great example of how the flow of knowledge never ceases. In order to integrate the arts effectively into curriculum plans, teachers need to be passionate and willing to engage themselves in the learning process. Through these programs, the scholastic environment will never become stagnant and as Michelle Marigliano, Special Projects Coordinator for Young Audiences said, the key is: "engaged students start with engaged teachers."
Contributed by Sophie Pauline, Young Audiences Arts for Learning Communications Intern
Newsfeed
December 4, 2020