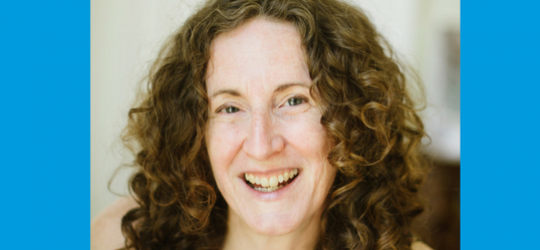 Arts for Learning, The Indiana Affiliate of Young Audiences, Malke Rosenfeld
Malke Rosenfeld is a percussive dance teaching artist, Heinemann author, TEDx presenter, and editor. Her interdisciplinary inquiry focuses on the intersections between percussive dance and mathematics and how to best illustrate these connections for students and teachers. Malke delights in creating rich environments in which children and their adults can explore, make, play, and talk math based on their own questions and inclinations. In her program Math in Your Feet percussive dance becomes the platform for a robust choreographic inquiry into mathematical thinking, practices and topics. 
Malke's book Math on the Move: Engaging Students in Whole Body Learning was published by Heinemann in 2016 and draws on research in math education, cognitive science, and her own deep experience in the math/dance classroom to make the case for how and why the body is the perfect partner in learning math. Malke co-authored a book of games, puzzles and activities centered on the mathematics of making comparisons, published in 2016, and was curator/editor of a special issue for the Teaching Artist Journal focused on writing about teaching practice, published in October 2014. She is also co-editor of www.insidetastudio.com, the teaching artist interview project of Arts for Learning Indiana.
 
ARTISTIC DICIPLINES
Dance
Visual Arts
SPECIALTY PRACTICE AREAS
Arts Integration
Professional Development
STEAM